Italian kiwifruit marketer Jingold will bring a record volume of fruit to the market this season as it continues to pay careful attention to some big challenges faced by its growers and also to the demands of an increasingly complicated international market.
The group says it expects to produce around 30 per cent more fruit this season, resulting in a record forecast crop of around 18,000 tonnes. With fruit quality and sizing reported to be good, one of the products being harvested in greater volume this season is its red-fleshed kiwifruit Oriental Red, which went on sale in mid-October both in Italy and across Europe. Yellow-fleshed fruit will also be available later in October, followed by green varieties.
Jingold's branded portfolio of kiwifruit has been bolstered in recent years by the addition of the elongated, sweet green variety Boerica, marketed as Jingold Bliss, as well as Jingold Plus, which contains double the level of Vitamin C found in the more commonly sold green variety Hayward.
According to Jingold director Alessandro Fornari, this season's positive outlook and excellent quality are thanks in no small part to the attention it pays to helping growers manage the fruit's production. In particular, he says, it provides assistance in tackling issues that might otherwise lead to a loss of quality or volume.
As has been widely reported in the mainstream media, Italian kiwifruit growers currently have to remain vigilant in the face of several different threats, not least bacterial cancer (also know as Psa), brown marmorated stink bugs, and the rising threat of an especially troubling disease called morìa (literally 'die off').
Jingold, for its part, says it is working constantly to overcome such challenges, even going as far as to provide growers with propagation materials that have been checked to ensure they are completely free of infection. To combat the bugs, it has encouraged the covering of kiwifruit vines with special nets, while improved methods of irrigation are said to be helping reduce the incidence of morìa.
"The timeliness of our interventions is a really important factor in confronting phytosanitary problems, especially spotting early symptoms of disease at critical moments and then following strict intervention protocols," he explains. "I believe that methodical attention in the production phase and our close association with the companies that produce our varieties play a big role in our quality."
Yellow overtakes green
At the other end of the supply chain, Jingold appears to be similarly busy as it looks to respond to customer demand and diversify according to the market's varying requirements. Federico Milanese, the company's international development manager, says demand for yellow kiwifruit, for example, is catching up and now in some cases exceeding that for green kiwifruit.
"In Asia, consumption of yellow has already overtaken the consumption of green and the same will probably occur in Europe as well," he reveals, adding that Jingold currently produces 20,000 tonnes of yellow kiwifruit a year in different countries across the two hemispheres, thereby to guaranteeing a constant supply.
Its red kiwifruit, in the meantime, is taking a bigger slice of the market among consumers who like its trademark tropical taste and sweetness. "This year onwards, the growth prospects for Red Jingold kiwifruit are really good," Milanese adds.
This season, Jingold is also increasing the volume of organic fruit it sells and is launching new packaging made completely from recyclable materials – including compostable stickers and laser markings on the fruit.
Plus it has refreshed its packaging's graphic design to underline its commitment to quality. "Starting with this next campaign, we want to consolidate our role as a global player, one that aims to reach the consumer with an ever wider range of products, all with the common thread of quality."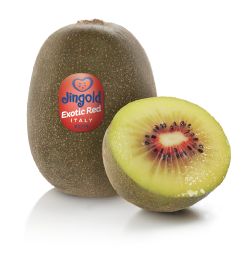 International expansion
Jingold's marketing activities this season also extend to its involvement in the European Art of Taste, a promotional project run by CSO Italy which has the backing of several major Italian companies and support from the European Union and the national government. Focusing on Italy's 'Fruit and Veg Masterpieces', the campaign is now in its second year and is aiming to raise awareness of the country's fresh fruit and vegetable offer among buyers in China, Japan, Taiwan and Hong Kong.
China in particular represents a key emerging market for Jingold, which recently set up its own sales arm in the country. Earlier this year, the general manager of Jingold China, Harry Xu, told Fruitnet it had enjoyed a smooth start to the 2020 season, with fruit reaching major Asian markets, including China, without too much disruption following despite drought in Chile and the global coronavirus crisis.
"To avoid uncontrollable situations like supply delay due to complex factors such as epidemic conditions, our shipments this season are earlier and more concentrated than before," he explained. "Currently, shipments in Asian markets such as China are relatively stable."
copy to EUROFRUIT MAGAZINE